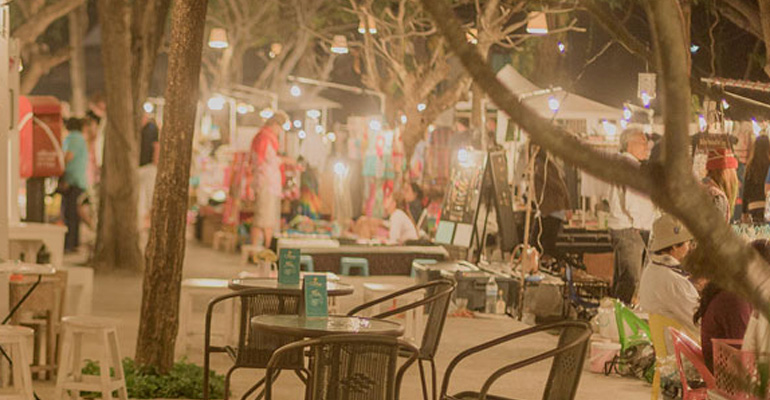 Cicada Market
Opening Times:
Every Friday & Saturday 16.00 to 23.00
Every Sunday 16.00 to 22.00
Cicada Market is designed as a forum and meeting place for the interaction of artists, designers, tourists, students and the local community. The concept is an art market and performing arts venue integrating culture, art and lifestyles with the atmosphere of Hua Hin. Cicada Market stimulates the senses with creative activities, workshops, and exhibitions of fine arts as well as music, dance and drama performances by university students and various artists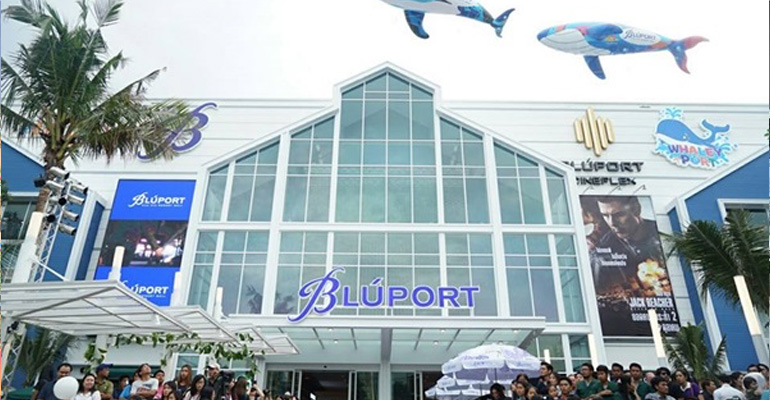 Blúport Hua Hin Resort Mall
Opening Times:
Daily 10.00 to 22.00
The new landmark of Hua Hin, Bluport Hua Hin Resort Mall provides spectacular shopping, lifestyle, dining and entertainment experiences for visitors of all ages in a relaxing resort atmosphere. -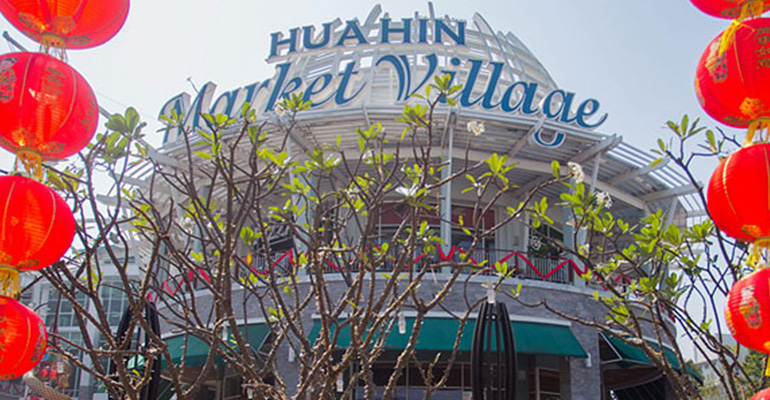 Hua Hin Market Village
Opening Times:
Sunday to Thursday 10.30 to 21.00
Friday & Saturday 10.30 to 22.00
Hua Hin Market Village is the first large scale shopping and entertainment complex in the city. The grand opening of Hua Hin Market Village was in February 2006 and since then it has grown in popularity with both local residents and visitors. The three major outlets at Market Village are Tesco Lotus, Home Pro and Major Cineplex. It also has a food court, a number of restaurants, a bowling alley and plenty of small shops selling popular clothing brands such as Levi, Lee. Lacoste, Bata, Body Glove and many others. There are also branches of several banks as well as shops selling mobile phones, cameras and accessories.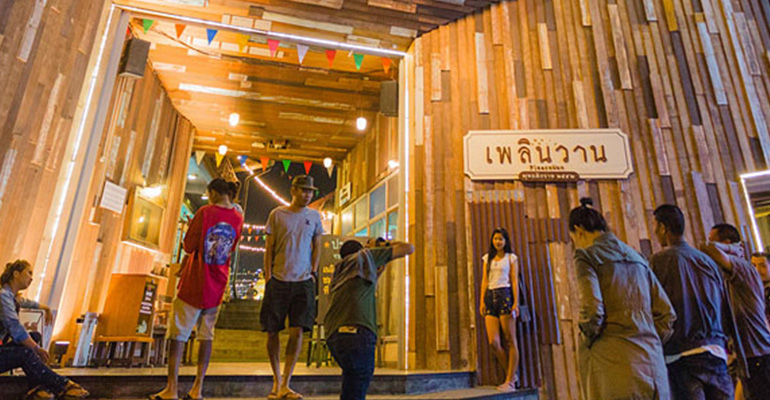 PlearnWan
Opening Times:
Monday to Thursday 10.00 to 22.00
Friday 10.00 to 24.00
Saturday 09.00 to 24.00
Sunday 09.00 to 22.00
Plearn Plearn Bar – Open daily 17.00 to 24.00
Plearnwan is a " Living Museum ". It not only has unique architecture, but is a place where memories come back to life. At Plearnwan the concept is the authentic recreation of a bygone age by imitating the lifestyles of the people, the food, drink, architecture, language, etc, from times past. Plearnwan is intended to be a centre of happiness – a place where time has stood still in the ' good old days '. When you visit Plearnwan you will be reminded of the past – and the past will come to life.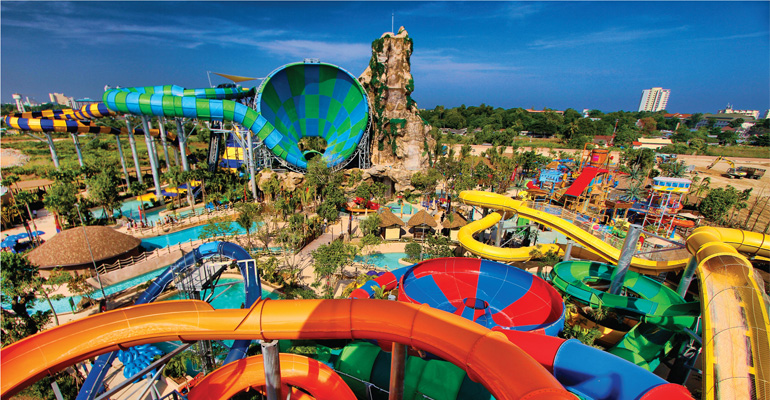 Vana Nava Hua Hin Water Jungle
Opening Times:
Open daily 10.00 to 18.00
Vana Nava Hua Hin, Asia's first Water Jungle is located right in the heart of Hua Hin. The 20 Rai ( 3.2 hectares ) park includes a tropical jungle with over 200,000 living species from across Thailand combined with modern facilities and 19 very exciting rides and slides including the Abyss, the largest slide in Thailand and Vana Nava Falls – the tallest man made mountain with waterfall in Asia.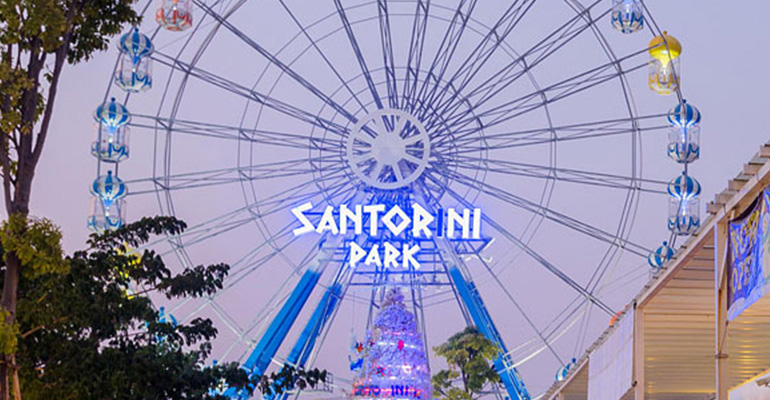 Santorini
Opening Times:
Monday to Friday 10.00 to 20.00
Saturday & Sunday09.00 to 20.00
Santorini Theme Park and Shopping Centre is designed and built in the blue and white architectural style found on the island of Santorini in Greece. It is not only a Shopping Centre but also has a wide range of amusements and exciting rides to provide fun and entertainment for the whole family.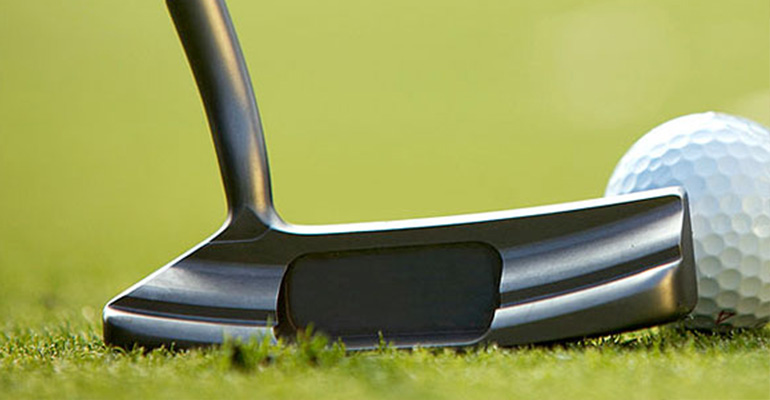 Golf
Hua Hin and the surrounding area offers great opportunities for playing golf with at least seven 18-hole courses within a 30 minute radius of the city centre – some of which are of Championship Golf Course standard. Prominent among these are Black Mountain Golf Club & Resort ( www.blackmountainhuahin.com ) and Banyan Golf Club & Resort in Hua Hin ( www.banyanthailand.com ). Green fees, golf club rental and Caddy fees are reasonably priced and complete arrangements can be made in advance for bookings at various golf courses in and around Hua Hin including transport to and from the golf courses and the resort. Full details of this service are available on request.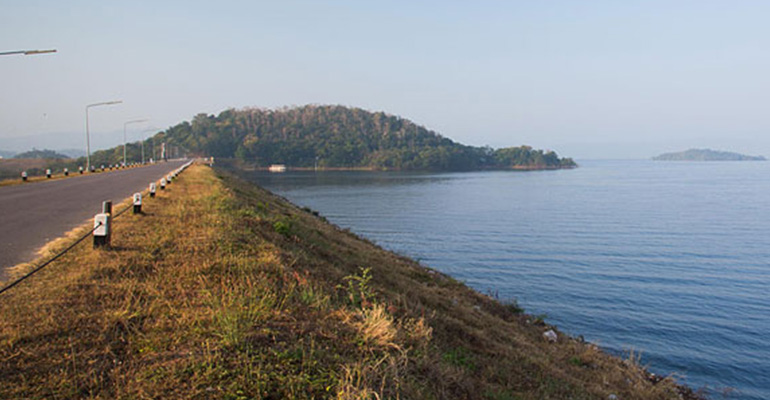 Kaeng Krachan National Park
Opening Times:
Open daily 06.00 to 19.00
With a total area of 2914 square kilometres, Kaeng Krachan is the largest National Park in Thailand. Located in the border area with Burma (Myanmar) and adjacent to the Tanintharyi Nature Reserve on the Burmese side of the border, it is a popular park owing to its close proximity to Hua Hin. Included in the list of ASEAN Heritage Parks, in 2005 Kaeng Krachan National Park was nominated to UNESCO for consideration as a future World Heritage Site. The park is possibly Thailand's premier forest birdwatching location due the quantity, variety and quality of species that are found there.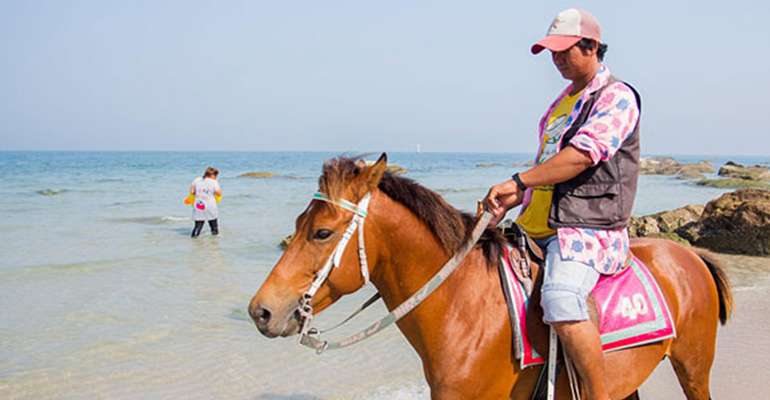 Hua Hin Beach
As Hua Hin is situated on the Gulf of Thailand the seas are warm throughout the year which makes swimming and other beach activities pleasurable at any time. The beaches are clean and the waters shallow which makes for a safe and enjoyable environment. In high season the beaches can be crowded, but it is always possible to find a quieter spot. For those seeking more energetic pursuits, Hua Hin Beach is a major centre for kite surfing with expert instruction available for novices at various locations.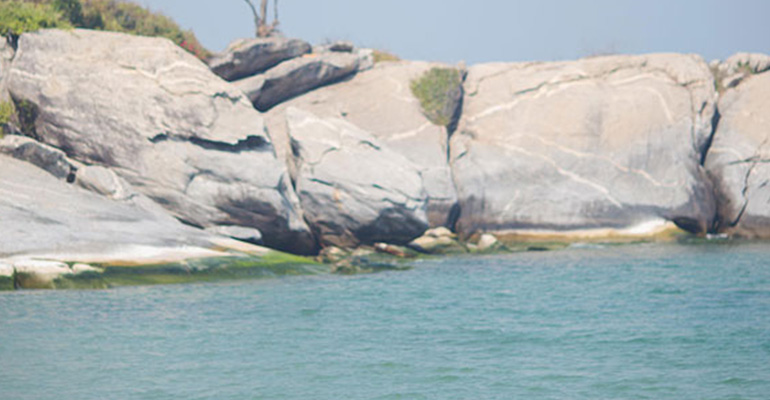 Sai Noi Beach
Opening Times:
Open daily 06.00 to 19.00
Khao Tao is a charming village renowned for its wonderful secluded beach – named Hat Sa Noi. The beach is generally quiet and peaceful, and there are a number of good beach restaurants which serve delicious local food with fresh seafood a speciality – as well as cold drinks.They also have sun-loungers and shade umbrellas available for hire on the beach for a nominal fee.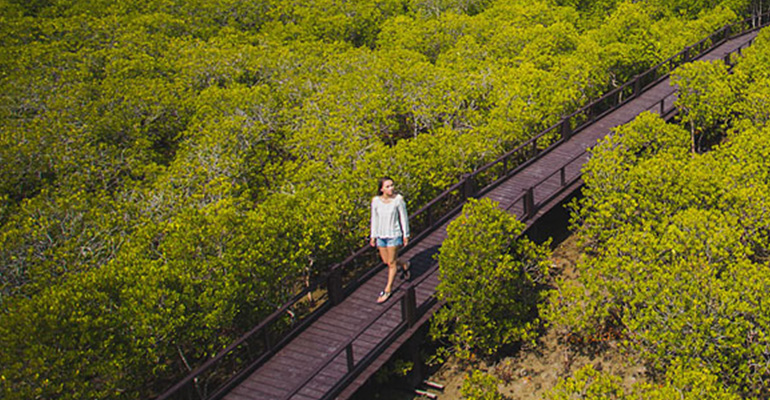 Pranburi Forest Park
Opening Times:
Open daily 24 hours
The Pranburi Forest Park is a protected area of 3.17 square kilometres located at the mouth of the Pranburi River where it flows into the Gulf of Thailand in the Pranburi District, Prachuap Khiri Khan Province. Established on 30TH. September 1982, the Park protects the mangrove forest of the Khlong Kao – Khlong Kob National Reserve Forest.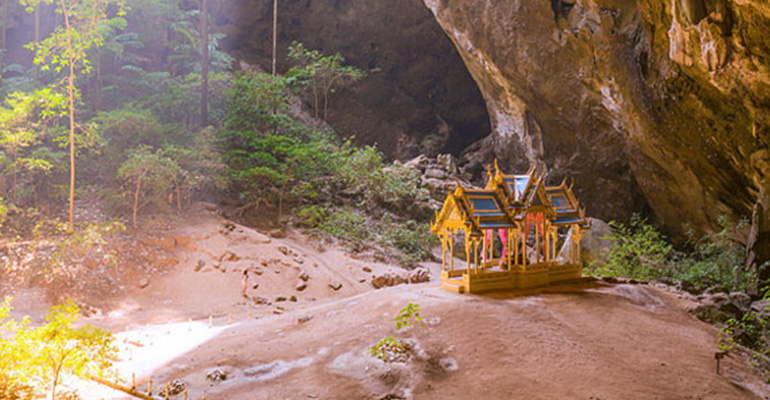 Phraya Nakhon cave
This impressive cave is located inside Khao Sam Roi Yot National Park and en route to the cave you will have some magnificent views of beaches, mountains and forests. The Phraya Nakhon Cave consists of two chambers and the ceilings of both chambers are open allowing the rays of sunlight to come inside illuminating the caves and giving them a mystical aura. The atmosphere inside the caves is tranquil and serene, especially if you are fortunate enough to visit when there are not many other people around. The Phraya Nakhon Cave is best known for the Kuha Karuhas Pavilion in the main chamber which was built at the end of the 19TH. century for the visit of King Chulalongkorn the Great ( Rama V ). Later, King Prajadhipok ( Rama VII ) and the present King of Thailand, King Bhumibol Adulyadej ( Rama IX ) also visited the cave.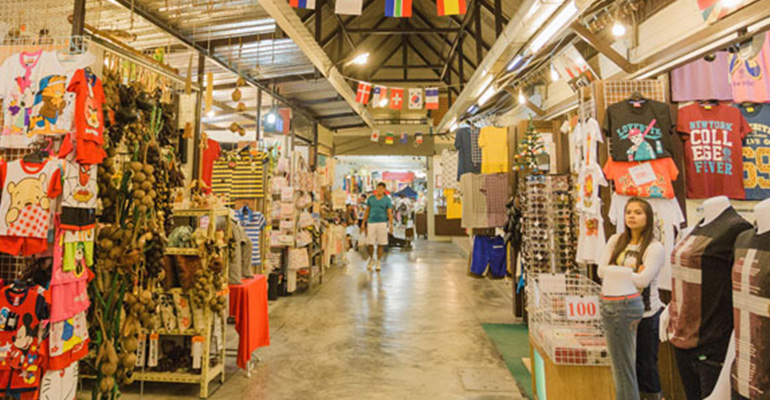 Hua Hin Night Market
Opening Times:
Open daily 17.00 to 24.00
A visit to the bustling Hua Hin Night Market provides a fascinating insight into Thailand and local Thai life. In addition to countless stalls selling all manner of clothing, handicrafts, electronics, fashion accessories, etc, you will also find many excellent and inexpensive restaurants along both sides of the street where the Night Market is held serving fresh and delicious Thai food and other cuisines.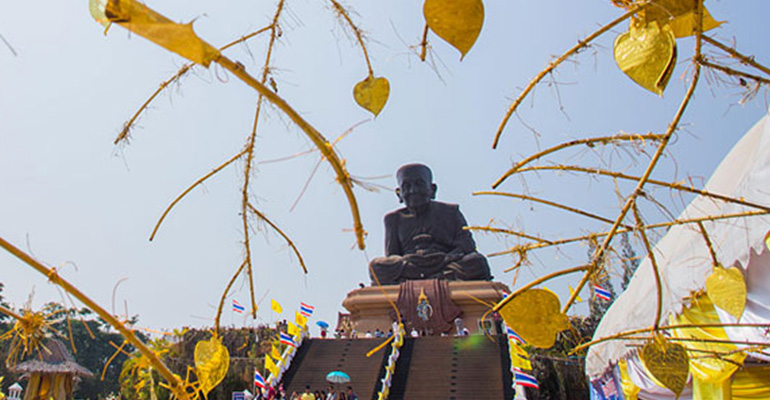 Wat Huay Mongkol
Opening Times:
Open daily 05.00 to 22.00
Wat Huay Mongkol temple complex located some 15 kilometres west of Hua Hin is famous for its enormous statue of one of Thailand's most revered monks named Luang Phor Thuad. The statue, which is about 12 metres high and 10 metres wide, is set on a large mound with a wide stairway leading to it and can be seen from far away reaching higher than the surrounding trees. The whole complex is set in a green and park-like environment, perfect for a couple of hours of relaxed exploring. The area includes a lake, waterfalls, streams, bridges, a number of pavilions and plenty of areas providing shade. There are several restaurants serving Thai food. Apart from the very impressive Luang Phor Thuad statue, Wat Huay Mongkol is a very serene and peaceful place and well worth a visit.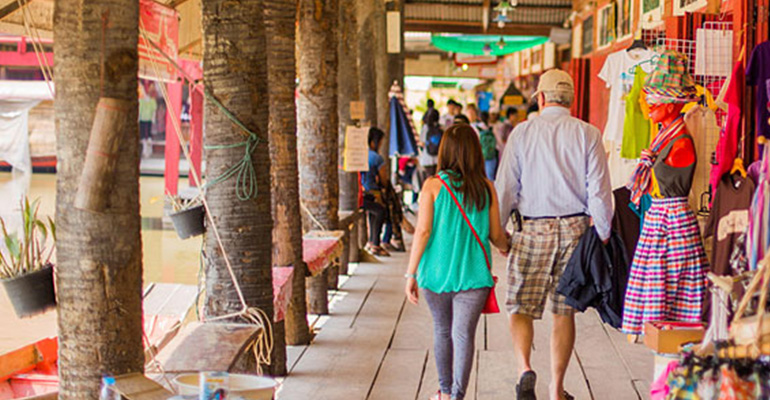 Hua Hin Sam Phan Nam Floating Market
Opening Times:
Open daily 10.00 to 23.00
Hua Hin Sam Phan Nam Floating Market is the largest floating market in the city, covering an area of more than 100 rai ( 16 hectares ). The market's architectural features take their inspiration from several historical sites in Hua Hin that were either built or renovated during the reign of King Rama VI ( 1910 – 1925 ), including the Mrigadayavan palace and Hua Hin Railway Station. At Sam Phan Nam Floating Market you will find more than 200 shops of all different kinds of which 40 shops are on the boats and selling local food, handicrafts and souvenirs. You can stroll through the heart of the Floating Market on foot, make a tour by boat or even take a pedalo. Alternatively you have the option of touring the Floating Market on a miniature railway.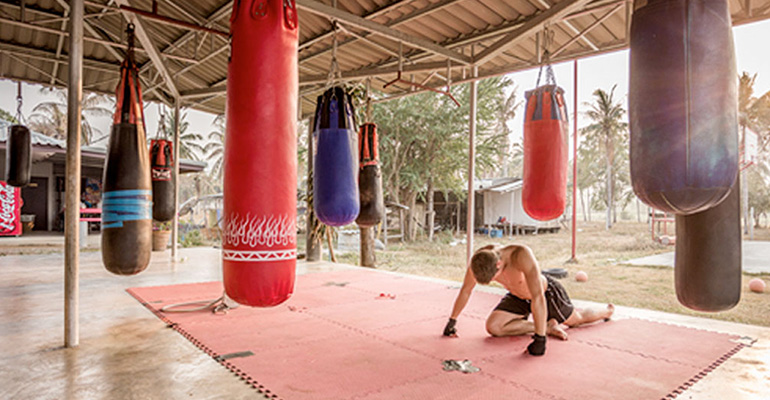 301 Muay Thai & MMA
Opening Times:
Open daily 06.30 to 19.00
301 Muay Thai & MMA ( Mixed Martial Arts ) Gym provides an optimal and ideal training environment for beginners, intermediate and pro-fighters. The Camp is located in Sam Roi Yot near to the beach, surrounded by coconut trees and mountains and adjacent to the first coastal National Park of Thailand. 301 Gym offers the perfect atmosphere for men and women to learn and train Muay Thai or MMA to get back in shape, lose weight or simply to get inspired !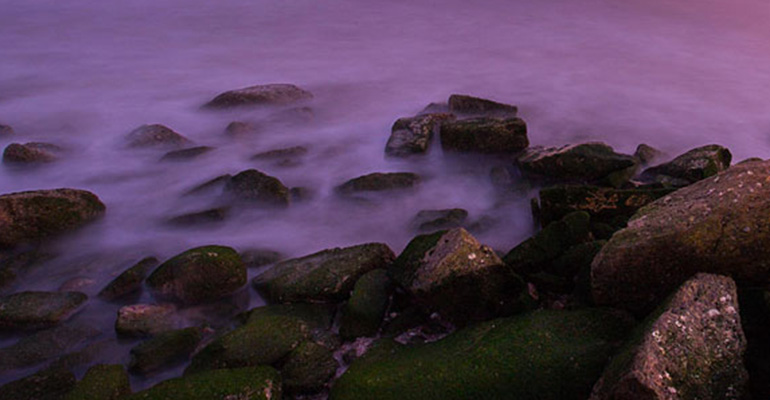 Pak Nam Pran Beach
Pak Nam Pran Beach is located in a small fishing village where there are many seafood restaurants serving Thai food at very reasonable prices. Although not one of the finest beaches in the area, Pak Nam Pran Beach attracts most visitors for its peace and privacy.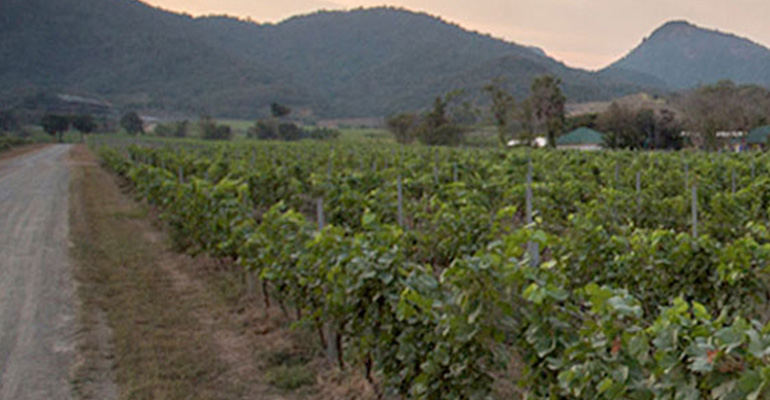 Hua Hin Hills Vineyard
Opening Times:
Open daily 08.30 to 18.30
Hua Hin Hills Vineyard is built on a former elephant corral, a tranquil location where wild Asian elephants were previously domesticated and trained. The soil, comprising mostly loamy-sand and slate, is ideal for the cultivation of grapes thus providing the seaside resort city of Hua Hin with its first boutique vineyard. There is an excellent restaurant with spectacular views over the vineyard and surrounding hills offering an extensive menu as well as tastings of the locally produced wines from a variety of different grapes including Colombard, Chenin Blanc, Muscat, Shiraz, Sangiovese and Tempranillo.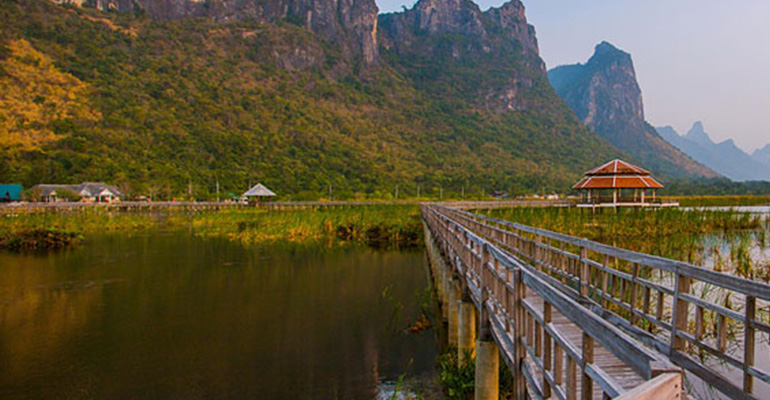 The Lotus Wetlands
The Lotus Swamp covers an area of approximately 500 rai ( 80 hectares ) in the freshwater marshland of Sam Roi Yot National Park. Around the Lotus Swamp there are nature trails in the form of long wooden walkways that stretch out towards the centre of the marshlands. From here visitors can observe the large numbers and variety of water birds and fish as well as admire the rare Lotus flowers ( Nelumbo Nucifera Lotus ).